Perth Elections



27 September 2020
Some thoughts on the City of Perth 2020 Elections by Kelly Fliedner


---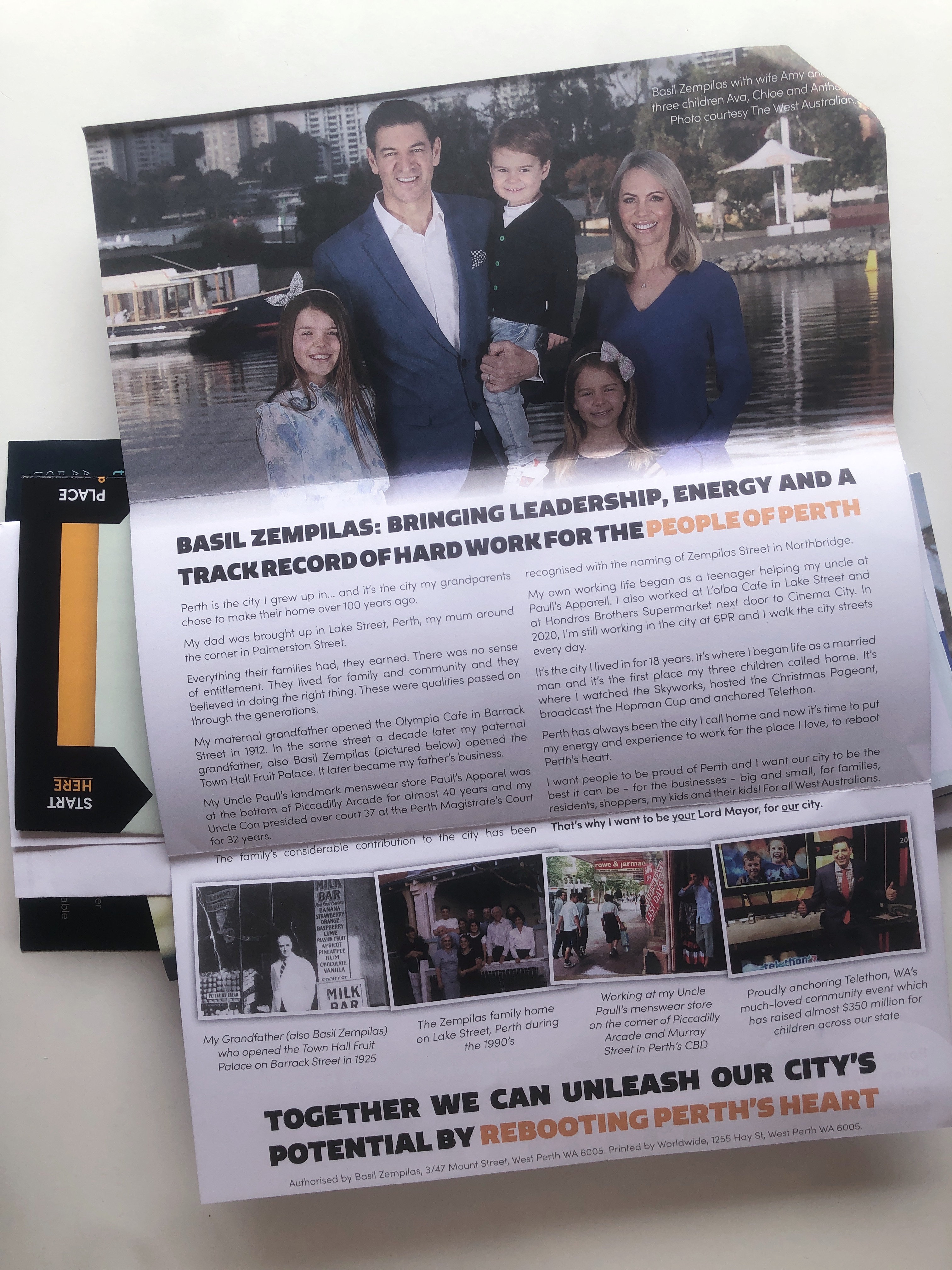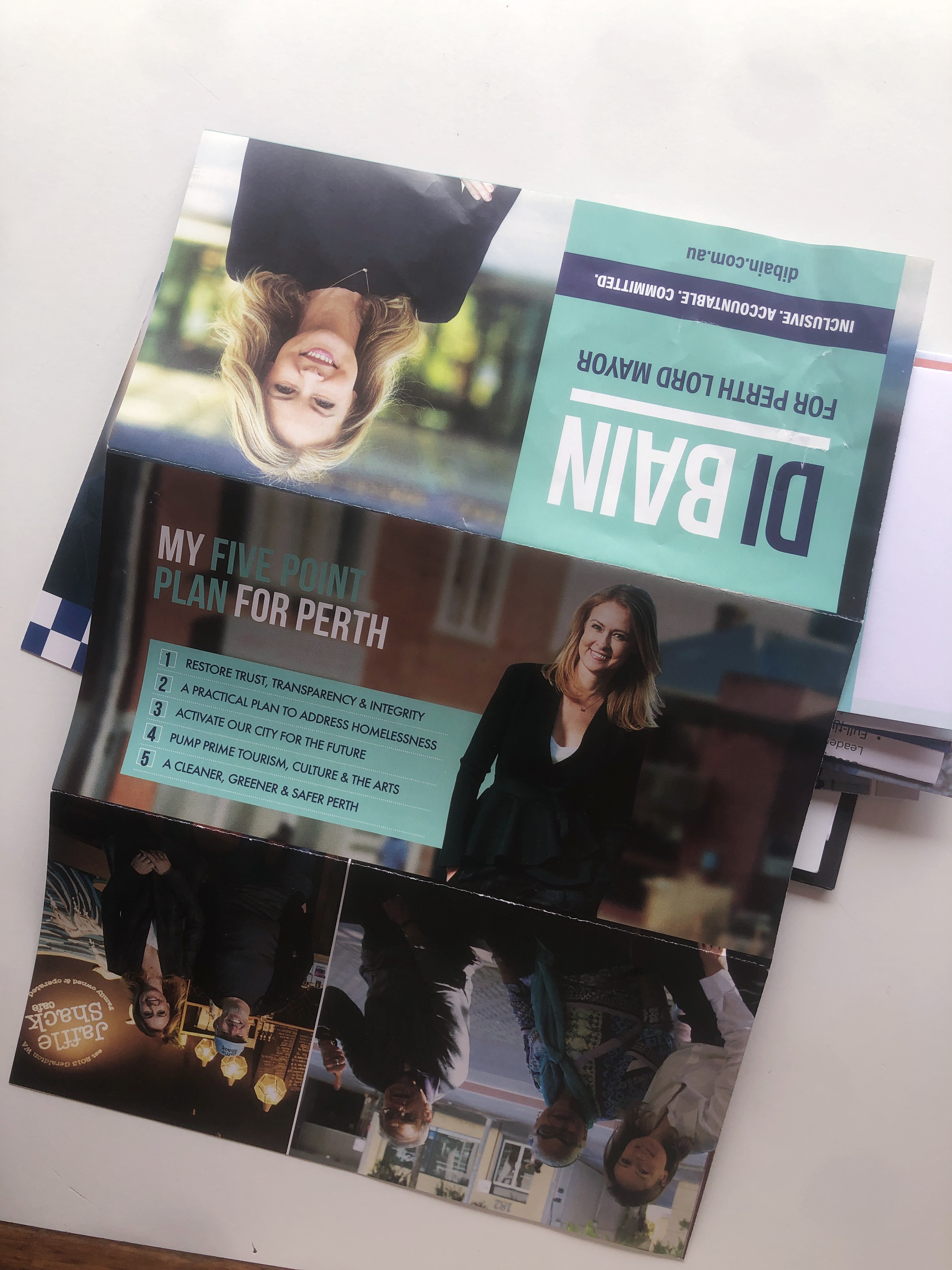 Semaphore
is edited from Whadjuk country in the city of Boorloo. We recognise the traditional owners of this place and acknowledge that sovereignty was never ceded. And yet, the infrastructure of the settler colonial state informs and inflects our own current reflections on art, and ongoing political questions matter to the daily lives of everyone here.
In
Semaphore
we consider a range of perspectives, be they white settler or not, amateur or professional, urban or regional. What we appreciate most is the ability to be in conversation with what this place might be, and how to make it better for all. That is why we continue to write about a plethora of art; why we published our resource list for
Indigenous Lives Matter;
and, why we think there can be
no peace in the statue wars
until there is peace in the justice system. This is why we also recognise that we want systemic change even as we vote on elected representatives, follow road signs and local laws, and make our way as best we can through the messy quotidian reality of living here.
This week, in thinking about very local concerns, we turn our attention to politics once again. Politics matters to art because it determines the funding, imagines the conditions, informs the materials and people, and continues to operate next to, and sometimes in conflict with, artists themselves. That is why we are paying attention to the local elections for the City of Perth Council. Informed readers will know that the Council has been in hibernation,
having been without councillors since 2018
. This was owing to
misconduct in previous administrations, which resulted in State Government intervention
. Now there are elections, including for Lord Mayor. For the first time in a long time it feels like voters actually care. This might be because the stakes are high, as the city itself embraces generational change—
a new museum
,
a planned university campus
, ongoing redevelopment, population growth, and a relative safe haven for residence and businesses alike during a global pandemic.
As residents of the City, we have been inundated with campaign material, including flyers, leaflets, business cards, yard signs, and the occasional door knock, and meet and greet. Across the board there is recognition that systemic change is needed and necessary. Prominent candidates for Mayor include sports commentator and mass media populist Basil Zempilas, who is running a law and order campaign, and businesswoman Di Bain, whose agenda is solidly neoliberal and is a political insider with over $100,000 in campaign donations.
Semaphore
thinks both of them lack the vision to become the mayor our city deserves. Surely, we have the desire, imagination and creativity to do more than move on homeless people, to stop 'anti-social behaviour', to bring back the WA wave? Surely, we have the ability, resources, potential to do more than simply extract the most profit out of ordinary citizens? Unfortunately, it's likely that it will be one of these two candidates because of the power in the local establishment.
Semaphore
wants a type of politics that envisions a truly vibrant, inclusive, meaningful city, where our elected representatives are able to speak with sophistication on arts and culture, where the community is truly engaged and supported, especially our most vulnerable. The answer is not more police. The answer is not more big business. The answer lies in creating the conditions in which people can cultivate meaningful forms of life and do so based on values of equity, justice, healing, fairness, respect. It is not only about an agenda, but about relationships, tone, tenor, values, and feeling. We want a higher politics than is currently offered. We want to see our community led by people who matter. We see the possibility of that in specific candidates even as we are reticent to support anyone for Lord Mayor itself. For that position, we suggest all eligible voters do their own research and come to their own conclusions. I will be voting for Brodie McCulloch who shows intelligence, empathy and collaboration in working to improve the city. He is by no means perfect, but I think he has potential to be a good Lord Mayor at this time.
We will, however, endorse one candidate for council—Claire Trolio. Claire is an independent arts writer and small business owner who knows and understands the arts in all its diversity. As one of the few candidates to recognise First Nations sovereignty, Claire understands the vital role that the arts play in the city, especially for Aboriginal people. She also acknowledges that organisations like artist-run-initiatives like Cool Change Contemporary and Paper Mountain are important to the arts ecosystem and the life of the city. They matter to the community as much as large state based institutions; and, Claire is cognisant of the challenges facing independent artists and arts workers that are trying to make a living from their practices. Out of all the candidates, she best represents our industry interests and can also lead on intersectional issues like identity and environment. Quite simply, Claire speaks our language and we hope, for the sake of Perth's arts world, that she is elected. She can also be a voice for people that are shut out from the Zempilas-Bain political axis with a perspective that is balanced, down-to-earth, and truly local. If you are voting, vote for her because everyone will benefit from a more creative, vibrant and community minded city.
Semaphore
will be awaiting the results of this election keenly. Without polling data and without compulsory voting, the results are uncertain. There is an attraction in not knowing; but we hope that whatever the outcome, this growing city becomes a more welcoming place for everyone. Simply, renaming the City,
like Albany/Kinjarling proposes to do
, might be the first step in the right direction so that the next election becomes that of the Boorloo City Council on Whadjuk country. The new Lord Mayor and Council have to be able to encourage the best of us as artists, arts workers and citizens while also moving towards decolonisation, non-violence, and new possibilities. Those might be utopian dreams but it is not beyond us to have high expectations in light of our own imaginations.
—
Further information about all the candidates for both Lord Mayor and Council can be found on the
City of Perth's 2020 Elections
page.
This week's
Semaphore
illustration is of the Perth City Key designed by
Alister Yiap
and given to Kerry Stokes by Lord Mayor Lisa Scaffidi in 2014.