On Affection:
A letter to my high school crush
5 April 2020
A love letter with text and illustrations by Amber Norrish


---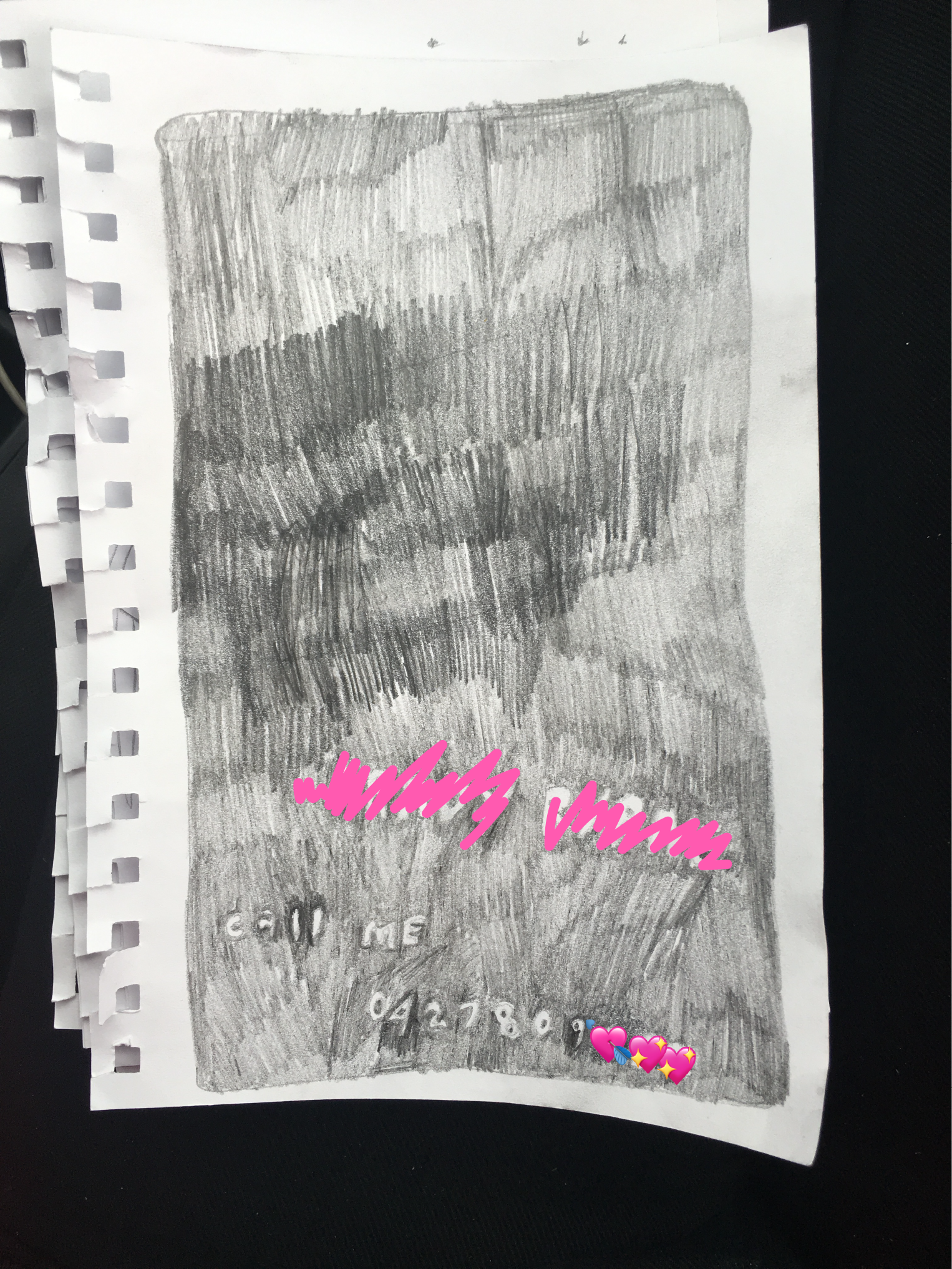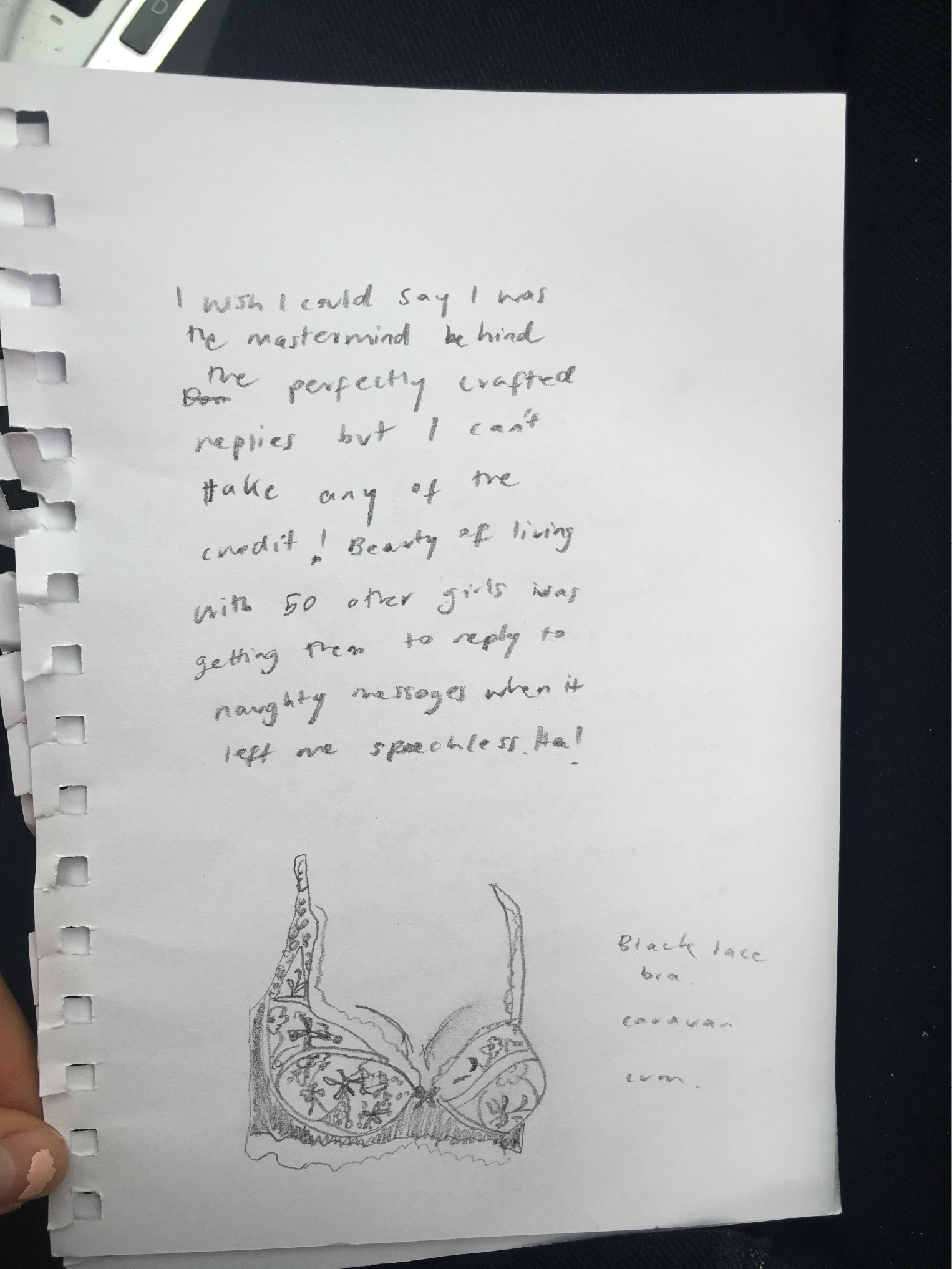 >>>
click right on the image above
for next page in sequence
[transcript of pages]
[page 1]
[full page of sketch book covered with rough grey lead pencil lines in verticle pattern; name redacted with hot pink squiggle]
Call me 042780💘💖💖
[page 2]
You turned 18.
💖 and 💖's engagement.
I lost my car keys at the racecourse on our walk oops.
[two figures sitting at a table, looking at each other]


[page 3]

[drawing of Ascot Racecourse with stars in the sky]
[page 4]

[drawing of old Nokia brick phone]
I got your number and we hit it off with some major flirting on my behalf.
[page 5]

We talked non-stop for two years… many mornings and late nights. I remember warning you I was trouble. You in your caravan and me in my boarding school room, both going to great measures to secure a signal!
[drawing of bedroom with window, desk, red and telstra signal bars, low]
[page 6]
You were definitely trouble for me too, private catholic girl school didn't prepare me for the messages from a young outrageously good-looking and smart guy like yourself. Again, you made me so nervous and aIways had butterflies when your name appeared in my screen.
[drawing of caravan with stars]
[page 7]
I wish I could say I was the mastermind behind the perfectly crafted replies but I can't take any of the credit! Beauty of living with 50 other girls was getting them to reply to naughty messages when it left me speechless ha!
[drawing of breasts in lace bra]
Black lace bra
Caravan
🖤
[page 8]
My Yr 12 ball partner was a douche and made me cry. As we got home from the after party at my house, I spent the whole night talking to you under the close-line. Ill always treasure this particular memory.
[drawing of figure underneath cloths-line with wound-up hose and floating pages]
[page 9]
💖 and 💖's wedding came around Jan 09 and I never told you but I spent the night in the loo because I was so nervous to see you.
[drawing of portable toilet with female sign]
[page 10]
The problems started with less and less contact and failed catch-ups. For me this time, although I found it tough, and guilty because I let go or lost site of what we had. I was consumed by overwhelm of what I was going to do to make my mark on the world. That is another story that I hope to get the chance to share with you one day. Looking back this was one of the reasons we drifted apart. A lot of it I felt was my fault.
[page 11]
However, finishing my arts degree, knowing that art makes me so happy and gives me the opportunity to speak my mind shows me that I haven't wasted my time apart from you. But not once, through everything have I forgotten our time together, in fact over the last few years I've struggled to find the courage to contact you to see if that connection still exists, until now.
[page 12]
I can't really explain how I feel and what inspired me to do this, I'm just following my gut that's saying the connection is strong.
[drawing telstra signal bars, full; 💌💖💖]
Amber Norrish
A letter to my high school crush
14 October 2016