NOLLA MARA

7 October 2020


Reflections on Nollamara by Matt Aitken to celebrate a new mural by Seantelle Walsh and Sioux Tempestt




---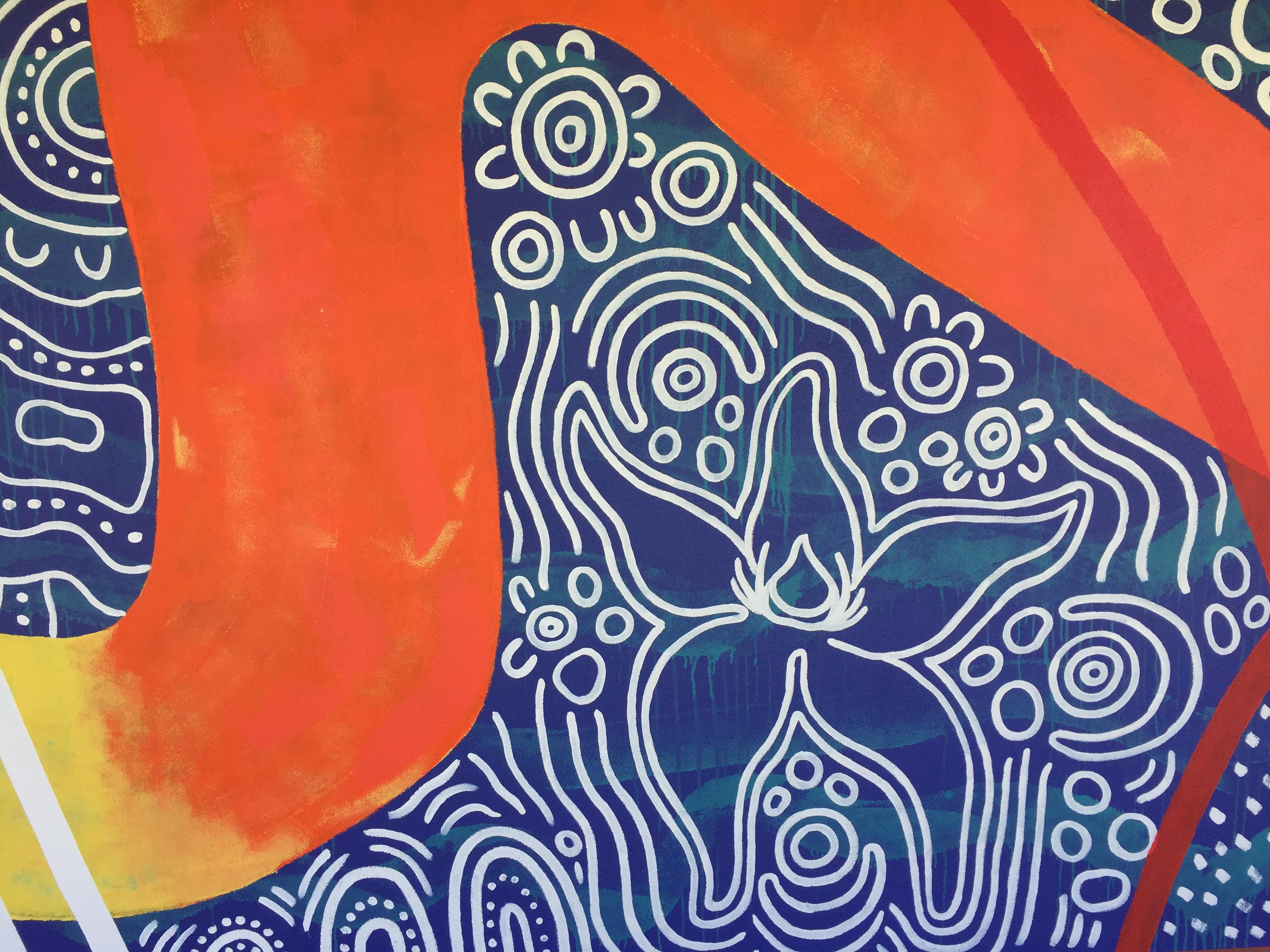 [ALT TEXT]

An eight by three metre mural has been painted on the recently renovated change rooms at Des Penman Reserve in Nollamara. The mural was a collaboration between Sioux Tempestt and Noongar artist Seantelle Walsh. The design spells out NOLLA MARA in three metre tall letters, with the NOLLA panel on one side of the change rooms and MARA on the other. A series of photographs of this pavilion plays in a slide show. Some photos depict the mural from a distance, including the pavilion itself, others are closer and depict the painting's detail. The painting is predominantly blue, with thick white lines illustrating a landscape with different animals such as a kangaroo, an eagle, a bee, and various plants including a kangaroo paw. Weaving its way through the mural is a giant rainbow coloured snake, the Wagyl. One of the images shows the signatures of Seantelle Walsh and Sioux Tempestt. Some of the images show Matt, a 30 year old man in front of the mural with his baby strapped to his chest, and others show Mei Swan Lim, wearing a puffy orange and blue jacket.
—

Mei Swan and I have been living in the Nollamara area for a couple of years. I met Seantelle once a few years ago. I love this new work at Des Penman, and I love our new neighbourhood, so wanted to pen a few thoughts about this place.
😱 Nollamara means black kangaroo paw according to the City of Stirling. But, the Primary School, Bowls Club and Seniors Centre all have red and green kangaroo paw logos. I haven't asked any Elders about the colour bit yet.


🌾 I accidentally joined the Nollaroos footy club reserves this season after 14 seasons off. Got some boots on sale from Jim Kidd and spent a few months trying to remember how to kick straight.

🎾 Barbershop group Perth Harmony Choir practices at the local tennis club; the Gilbert O'Sullivan Society of WA has a big theatre hall next to the bowls club; an old timey rock and roll band plays on Sundays at the RSL; I met a guy called 'Animal' there once—great yarns about building tourist houses at Wadjemup (Rotto) in the '80s: up early to go fishing, work all day, then the pub, then eat fish for dinner.


🎊 Four elderly women do Tai Chi at Des Penman. Today two of them are in matching maroon velour tracksuits. It's a beautiful sight—them in slow movement in front of the mural since the renos just finished and the fences have come down.


🌷 Charlie and Marie next door told us all the goss on our street when we moved in. Born storytellers and incredibly kind, their time in Katanning and Albany sounded so beautiful. Re: goss. A skinny teenager squeezed into our house through the doggy door and stole a laptop once, but not too much drama other than that. Just some scruffy characters who woudn't bother you.


🤠 Characters at Nollaroos; Pistol Pete (umpire, plays for the old boys teams, short surfer kinda vibe); Rene Dingo (Ernie's cousin or nephew, always embracing newcomers, I love his inspirational quotes on FB); and, Des Headland Snr (was wearing a cowboy hat, big belt buckle and boots when I first met him, he came up at quarter time & told me to pull my socks down, wise fella).


👽 Mysterious park regulars: old fella who drives laps of Des Penman in his motorised scooter with a heap of WCE flags; spirited teen who dances around the park with her headphones super loud jumping up and down heaps.

Sorry this is kinda weird, but it just felt nice to frame the work in a wider social context. Come check it out, bring your dog, get curry puffs from Aunty Christine at Far East cafe then go to Little Nolla, then Kakoulas, then move here, join the footy club (women's team is A grade now!) and see it for yourself 💗

—

The Des Penman Sporting Pavilion Mural at 11 Lemana Rd, Nollamara is by Seantelle Walsh and Sioux Tempestt.

Images here by Matt Aitken and Mei Swan Lim.